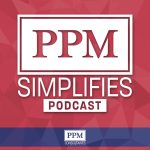 In this episode of PPM Simplifies, Todd Perry talks to Jared Saterfiel, Project Engineer and Project Manager at PPM Consultants, about per- and polyfluoroalkyl substances (PFAS) simplified.
Based in West Monroe, Louisiana, Jared's experience includes working in the environmental services industry and being skilled in remediation, waste, environmental compliance, water quality, soil, and environmental impact assessments.
Jared is a strong program and project management professional with a bachelor's degree in construction engineering technology from Louisiana Tech University.
Key Topics, Trends, and Takeaways:
What are PFAS?
What kind of products and items contain PFAS?
Can PFAS have good uses and benefits, but health risks to humans?
What will the legislation and regulatory future look like for PFAS?
Will states set health risk levels lower for PFAS than the EPA standards?
Industries using PFAS are affected by risks, regulations via packaging, contaminated soil
How to remediate, mitigate, assess, and deal with PFAS contamination
Resources and Links:
U.S. Environmental Protection Agency (EPA)
EPA: Basic Information on PFAS
Jared Saterfiel on LinkedIn
Todd Perry on LinkedIn
PPM Consultants