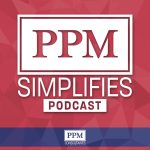 In this episode of PPM Simplifies, Todd Perry talks to Brandon Bass, a professional project engineer (PE) at PPM Consultants, about greenhouse gases and their effect on the climate.
Brandon's project background includes air permitting and compliance, environmental due diligence for renewable energy development, Greenhouse Gas (GHG) reporting program audit and development for refineries, applying industrial process knowledge of regulatory requirements by developing process and data flow diagrams, and ambient air monitoring.
Based in the firm's Birmingham, Alabama office, Brandon brings seven years of experience in air quality and compliance to PPM Consultants.
Brandon has a bachelor's degree in chemical engineering with an environmental concentration from Louisiana State University (LSU). He is a licensed professional engineer in Alabama and Louisiana with extensive Title V knowledge.
Key Topics, Trends, and Takeaways:
What are greenhouse gases?
How do greenhouse gases affect the climate?
How do humans, including politicians, impact greenhouse gases?
Who tracks, monitors, and reports emissions from different emitters and industries?
What can facilities do to prepare for potential regulations?
How do you benchmark?
What are your sources?
Do you have an emission reduction plan?
Resources and Links:
U.S. Environmental Protection Agency (EPA) Laws and Regulations
EPA's Facility Level Information on GreenHouse gases Tool (FLIGHT)
Intergovernmental Panel on Climate Change (IPCC)
Brandon Bass – PE Joins PPM Consultants