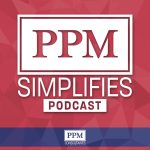 In this episode of PPM Simplifies, Todd Perry talks to Zane Hood, Principal and Senior Engineer at PPM Consultants, about terminals that are everywhere but hidden in plain sight.
Based in the firm's Birmingham, Alabama office, Zane is responsible for operations, including project management, client and regulatory relationships, training, and health and safety. Other duties include business development, resource allocation, annual budgeting, and long-term planning for the company.
Zane has 24 years of experience as an environmental engineer with a focus on assessment and remediation of soil and groundwater contamination; as well as a broad range of industrial compliance and permitting.
Key Topics, Trends, and Takeaways:
What purpose do terminals serve?
Infrastructure: Importance of pipeline terminals and maritime facilities
Supply and Demand: New terminals not being built despite lack of storage space for oil
Environmental Compliance: Terminals must meet air, water, waste media regulations
EPA Submission: Risk management regulations/planning every 5 years to be profitable
SPCC Rule vs. Facility Response Plans (FRP): Prevent, prepare for, respond to oil spills
Compliance Violations: Depends on agency – inspection forms, integrity testing, permits
Best Practices: Measures of accountability need to be in place with a tracking system
Resources and Links:
U.S. Environmental Protection Agency (EPA)
EPA – Clean Air Act
EPA – Clean Water Act
EPA – SPCC Rule
EPA – Facility Response Plans (FRP)
Zane Hood on LinkedIn
Todd Perry on LinkedIn
PPM Consultants