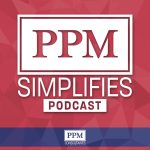 When building a new facility there a lot of nuances and challenges related to environmental compliance. Thad McCoy specializes in this very topic and joins Todd Perry for this episode of PPM Simplifies.
Thad is an engineer at PPM with more than 25 years experience. He has exceptional knowledge of state and federal regulations. He works with clients to find a sound resolution of compliance and environmental issues and works to efficiently prepare permitting applications.
Constructing a new facility can be challenging due to the extent and complexity of environmental
regulations. Clients and their construction project team must determine the applicability of federal and
state air, water, and solid and hazardous waste regulations. These regulations typically require obtaining
environmental permits before construction begins, especially, air and water regulations. In some cases,
permits must be obtained even before soil is disturbed.
Advanced project planning for environmental permitting is necessary because the permitting process
can take up to 2-years depending on the complexity of the project. The permitting process will impact
the construction project schedule and clients have to adjust their timeline for startup.
Key Topics and Takeaways
 Every state is different and has different environmental regulations
It can take up to 18 months to attain permits which can effect construction schedules. It's important to plan for that
Of all the different types of permits, Air Permits are the most complex and are usually needed before construction can begin.
The different types of water permits

Wetlands Permitting
Wastewater Discharge Permitting
Stormwater Discharge Permitting (water that falls from the sky onto your site is permitted.)

Obtaining a permit is just the beginning of compliance. Facilities must put systems into place to maintain compliance
While compliance and permitting applications are a complex process, the cost of non-compliance far outweighs the cost of compliance. Plus compliance with EPA standard is good for human and environmental health
Links and Resources
Todd Perry on LinkedIn
Information on compliance via the EPA 
ppmco.com