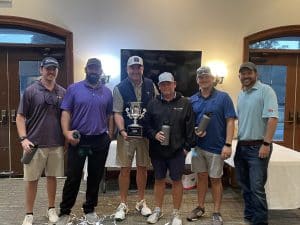 On October 14, 2023, PPM hosted its 22nd PPM Cup at Wild Wings and Calvert Crossing Golf Club. There were two events where points could be earned. The first event consisted of 50 clay pigeons in the morning at Wild Wings Sporting Club, and the second event was an 18-hole scramble golf tournament. This year was one of the most competitive years we've had, with the difference between first and second place being a fraction of a point.
The total attendance for the Cup this year was 104, representing multiple states and markets like energy, commercial, retail UST, manufacturing, and government. 66 folks participated in sporting clays in the morning, and 65 contestants played golf. Some attendees did one or the other, and some did both. To get the full experience of the Cup, it's best to participate in both! We would like to congratulate our 2023 winners from Plymouth Tube! This is Plymouth Tubes second PPM Cup Win, their first was in 2018.
In addition, there is a tailgate area that is set up between holes 3 and 18 that we have dubbed The Grove. One of our Monroe staff members, Jon Roger, fed everyone with his delicious cooking. He's quite the chef and competes in cooking competitions across the country. This year, we had around 34 employees, clients, vendors, and friends plus our golfers join us at The Grove.
Every PPM Cup, we select a charitable organization to make a donation, and this year, we chose the Louisiana Baptist Children's Home (LBCH). The LBCH does great work such as residential childcare, short-term crisis care for children, residential family care, and so much more. They're located in Monroe, Louisiana, and here is a link to their website for detailed information. PPM is very proud to contribute to its mission this year, and we look forward to seeing you at our 2024 PPM Cup.