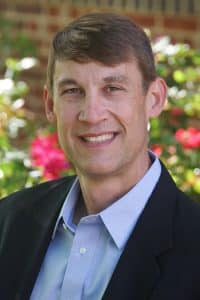 Contributed by Isaac Smith, Principal, PPM Consultants
No, this isn't a trailer for a bad B-movie, but an all too real situation that also played out last year during spring break and summer vacations.  Similar to what happened in 2022, scientists are warning residents of the Gulf Coast and some Caribbean islands of a several thousand-mile-long "blob" of sargassum that is already starting to pile up on the beaches of frequent vacation destinations such as: Mexico's Yucatan peninsula, some Caribbean islands and in Key west, Florida
Brian LaPointe, a scientist at Florida American University and a marine biologist who runs one of the nation's leading seaweed labs (yes, that's a real thing), says there is an estimated 13 million tons of seaweed already out there and the early arrivals are just "the tip of the iceberg".
For those of you who have walked down the beach and noticed a small pile of sargassum here and there, you're probably thinking, "so what's the big deal".  Well last year, here on the Gulf Coast of Alabama and Florida, there were times when the sargassum was a foot deep for as far as you could see in both directions and anywhere from the surf to where the high-tide carried the sargassum.  Once on the beach, the sargassum begins to decompose and emit chemicals like hydrogen sulfide, and the smell is rather, unpleasant.  Not to mention it often collects various items such as Portuguese man-of-war, other jellyfish, various pieces of floating trash, etc. only to deposit them in large piles or mats on the beach.
Todd Perry, PPM Principal and frequent visitor to Gulf Shores, told me that he had to buy a steel rake, simply to clear a path to walk from his condo to the water last summer.  If you're wondering how bad can this really get, the below photo pretty-much sums it up.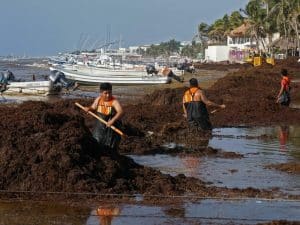 People remove Sargassum in Playa del Carmen, Mexico, in April, 2022. Researchers expect this year will bring another massive bloom, choking local ecosystems and tourism economies.
Where did the seaweed come from?
Interestingly enough, the sargassum originated in the Sargasso Sea, the earth's only sea that is not bounded by land but rather strong swirling currents.  A little more than a decade ago, in 2009-2010 scientists say there were some unprecedented wind events that caused large quantities of sargassum to be blown out of the Sargasso Sea.  These events basically caused enough sargassum to be released to establish a stable population outside of the Sargasso Sea.  That situation coupled with fertilizer-rich runoff from North and South America and warm ocean temperatures have all contributed to the epic size of the sargassum blob.
Where will it go and when will it get there?
Much like how this situation began, the sargassum will be deposited on beaches around the Gulf of Mexico and Caribbean depending on ocean currents and wind.  The more southerly the wind direction becomes, the more seaweed you'll see here on the Gulf Coast.  Typically, that aligns with the arrival of summer in June, and the millions of tourists.  Bad timing for anyone looking to spend some time on the beach or in the surf.
If you're so inclined, the "blob" is large enough to be seen from our satellites and you can follow along with its every movement on the Satellite-based Sargassum Watch System (SaWS).  Yes, I'm serious, that's really the name of the University of South Florida's program designed to model and track the giant floating mats of sargassum.
Is there anything positive about the sargassum blob?
There can be one "positive" that comes with all of this sargassum, good fishing.  If the sargassum is formed into large mats and not broken-up into small, unwieldly clumps of seaweed, it can be magical for offshore fishing.  The mats of sargassum are floating ecosystems with all sorts of fish, crabs, and other tiny marine organisms and they generally attract larger marine species such as mahi-mahi, wahoo, tuna, tripletail and even marlin.  For offshore anglers, finding some large golden mats of sargassum can be the difference in having a slow or decent day and filling the boxes with lots of tasty fish.
In summary, if you have a vacation planned to somewhere and you end up inundated by sargassum, just try to make the most of it.  Spend some money at the local stores and restaurants, or even try to book an offshore fishing trip.  The business owners and locals aren't any happier about the blobs appearance than you are, unless they're fisherman or have  a contract to remove the debris.
Links to other articles or websites on this topic are provided below.
Here's the Real Story behind the Massive 'Blob' of Seaweed Heading toward Florida – Scientific American