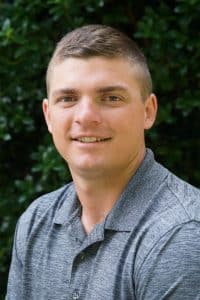 Contributed by Bennett Bates, Geologist, PPM Consultants
Like many of you, I've been hearing a lot about per- and polyfluoroalkyl substances (PFAS), a class of chemicals that includes thousands of man-made fluoropolymers. PFAs are persistent, long-lasting, dangerous, water soluble, and are used in many different products across the board. "It's in everything!" — is a common phrase used to describe it. So I was thinking to myself, well if it's in everything, then how will we sample it without cross-contaminating the sample? It sounds like a hard task given how common it is in every day products! Don't worry, luckily it's not in everything and we do not have to use "the force" to collect quality samples. However, there are many factors that must be considered when sampling PFAs out in the field to avoid cross-contamination. The detection limits for these chemicals are very low, so minimizing cross-contamination is imperative when sampling PFAs. Below, I talk about some of the factors to keep in mind when sampling for PFAs. This is by no means exhaustive, but I hope it will get us thinking about all the different ways cross-contamination could occur and how we could prevent it.
PFAs are used in clothing and PPE to provide water, fire, stain, and grease resistance. Any clothing or material should be examined to ensure it does not contain PFAs. PFAs are also found in some cosmetics, shampoos, fabric softeners, fabric protectors, sun screens, bug sprays, and the list goes on and on. Avoid new clothing and wear older clothing that has not been washed with fabric softeners containing PFAs. A good rule of thumb would be to go all natural on the day of sampling and minimize the look-good-smell-good components of your daily routine. Powderless nitrile gloves are a good option for gloves. Steel toe boots will likely need boot sleeves made of a non-PFA containing material as most steel toe boots are made with PFAs.
High-density polyethylene (HDPE) or polypropylene sample containers provided by the lab conducting the testing should be used for sample collection. However, beware of fluorinated HDPE materials as these types of HDPE materials contain PFAs. For groundwater sampling, materials made with silicon, stainless steel, HDPE, polypropylene, or other materials not containing PFAs should be used for sampling. Some of the types of bailers or tubing may contain PFAs, so always investigate the specific equipment to be used to make sure they are a PFA free material. Drilling equipment needs checked for any Teflon or other PFA containing material that could come into contact with the sample.
Alconox®, Liquinox®, Citranox®, and isopropyl alcohol are all good, PFA free, cleaning chemicals that can be used in decontamination of equipment. Use paper towels that have not been treated with any PFAs. Deionized water provided by the lab conducting the testing is the best source water for decontamination.  However, for the decontamination of larger drilling equipment that requires more than a couple jugs of water, a water source will likely be needed. The water source should be chosen carefully because PFAs have already been identified in many drinking water aquifers. Test source water prior to or during drilling activities to ensure there are no PFAs contaminating drilling equipment. Any brushes, buckets, liners, or other items in the decontamination process need to be a PFA free material.
There are many useful documents that list out good and bad materials. The State of Michigan's EGLE PFAS Quick Reference Field Guide and Oklahoma Department of Environmental Quality's PFAS Sampling Quick Reference Field Guide provide handy lists of materials that can and can't be used during sampling. These are really helpful and are a great starting point. They provide lists of everything from allowed sampling equipment/containers to types of sunscreen and clipboards to avoid. However, since many states are still developing guidelines for sampling PFAs, each sampling plan should be approved by the applicable governing agencies prior to fieldwork. Just from the information that is out already on sampling PFAs, some states have more strict requirements than others.
The bottom line is you need to look up each component or item to be used in the sampling process to ensure no PFA containing materials will cross-contaminate samples. Just because there are PFAs in some materials, that does not mean there are PFAs in all materials. Isolate the sample area and consider everything a PFA containing material unless it is known otherwise. Even if all equipment, clothing, PPE, and sample jars are PFA free, the vehicle you drive to the site is likely not PFA free. Therefore it is crucial to make sampling as sterile as possible and to collect multiple field blanks, rinsates, and trip blanks to make sure cross-contamination is not occurring. Budget extra time for sampling to ensure proper procedures are being implemented and always consult the local regulators for their approval of sampling procedures/materials prior to field work.  Regulations for PFA sampling are still being developed, but the best practices will be more established over time. For the meantime, it is wise to use the most conservative sampling procedures you can find when sampling for PFAs. Please don't hesitate to reach out to me at bennett.bates@ppmco.com if you have questions about PFAS related projects.