By Annie McIlwain, P.E., District Manager, Mississippi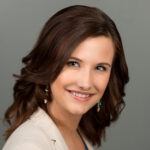 When storm water drains off a construction site, it carries sediment and other pollutants that can harm lakes, streams, and wetlands. While natural erosion produces nearly 30% of the total sediment in the United States, accelerated erosion from human use of land accounts for the remaining 70%.
In fact, the Environmental Protection Agency (EPA) estimates that 20 to 150 tons of soil per acre are lost every year to storm water runoff from construction sites. Also, according to the EPA, sediment pollution causes $16 billion in environmental damage annually.
So what is so harmful about sediment accumulation in surface waters?
The Damage
It seems like dirt shouldn't hurt. However, sediment can fill up storm drains and catch basins, thereby increasing the potential for flooding; it can cause surface water to become cloudy, thereby preventing animals from seeing food and stunting the growth of natural vegetation; it can cause massive declines in fish populations and can clog fish gills; it can increase the cost of treating drinking water and can result in odor and taste problems; and nutrients transported by sediment can activate blue-green algae that release toxins which can make swimmers sick.
Because of this, the Clean Water Act and Federal regulations require construction site operators to obtain National Pollutant Discharge Elimination System (NPDES) permit coverage for regulated land disturbances and associated discharges of stormwater runoff to State waters.
Regulation
The Mississippi Department of Environmental Quality's (MDEQ) Large Construction General Permit authorizes the discharge of storm water runoff into State waters from construction sites that have installed Best Management Practices (BMP) for erosion and sediment control.
Construction activities are defined as "land disturbing activities," and any such activities that disturb five or more acres are considered large construction activities. Construction activities disturbing fewer than five acres are still regulated by the Large Construction General Permit if the project is part of a larger common plan of development or sale with a planned disturbance equal to or greater than five acres.
Permit Changes
On December 28, 2021, the Mississippi Department of Environmental Quality (MDEQ) issued a Public Notice pertaining to proposed Large Construction Storm water General Permit Changes.  Proposed changes to the Large Construction Storm water General Permit, which is currently out for public comment, are:
Construction Dewatering will now be allowed but with conditions. However, discharges from contaminated sites will not be allowed.
Large economic development-style projects will now be allowed to have one permit coverage rather than multiple coverages. For these types of projects, the permit will require that various responsible contractors be identified and reported so it is clear who is responsible in each construction phase.
The permit will now expressly require that construction entrances and roads be cleaned daily if mud is tracked onto the road. The permit clarifies that these wash waters are not allowed to wash into ditches.
Sedimentation basins will be required to be sized properly even if the responsible party voluntarily opts for the basins to accept less than 10-acres' worth of runoff.
Flocculants are allowed to be used, but they must be non-toxic to fish. The flocculant Safety Data Sheet (SDS) must be provided to the MDEQ during the permitting process.
Responsible parties working on the site must be trained in the Storm water Pollution Prevention Plan (SWPPP) and Permit provisions. Training can be done at a preconstruction meeting and must be documented and signed by the trainee.
Electronic inspections and other records can be used but must be easily accessed in the event of MDEQ's inspections. Otherwise, paper copies must be provided to MDEQ upon request.
A MDEQ inspection will no longer be required for a Request for Termination of the Permit. MDEQ can now opt to rely on color photographs provided by the permittee that prove the site has reached adequate closure and stabilization.
The current Large Construction General Permit expired on December 31, 2021. This re-issuance will allow the continued discharge of storm water for an additional five-year period.
To access the draft Large Construction Storm water General Permit and to view the Public Notice, you can visit the MDEQ website here. The public comment period ends on January 30, 2022.
Ready for Your Mississippi Stormwater Permit? Let PPM Help You
As you can see, there are many factors to consider that will vary for different projects. Remember, we just highlighted the changes above; there are many existing regulations that builders must also comply with.
If you have any questions about construction, obtaining a permit at your site, and complying with State water quality regulations, reach out to the professionals at PPM.  We can help!
Contributed by:
Annie McIlwain, P.E.
District Manager, Mississippi
PPM Consultants, Inc.
(601) 956-8233
Navigating New Regulations Locally & Federally – PPM Co. 
Keeping nearby water sources clean is key to finishing the job on time and without running afoul of regulators. When local and federal regulations change, PPM Co. is here to help you navigate those changes so that you better understand how to stay compliant and profitable. To learn more, call Annie McIlwain directly at 601-956-8233. Or, for general guidance and regulatory help, call PPM Co. to see what we can do for you at 1-800-945-4834 or contact us here.