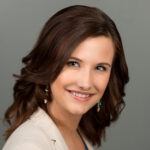 Annie McIlwain, P.E., District Manager – Mississippi
In his first week in office, President Biden signed an Executive Order entitled "Tackling the Climate Crisis at Home and Abroad" that responds to climate change with an emphasis on environmental justice. Within this executive order was a promise to the American people and disadvantaged communities throughout the nation called the "Justice40 Initiative". 
At its core, Justice40 allocates federal funding for certain environmental initiatives that could benefit you, your site, or your industry. PPM Consultants explores Justice40 and how you or your site could stand to benefit from the initiative.
What is Justice40? 
Justice40 promises that at least 40% of overall benefits from federal investments in climate and clean energy will be delivered to disadvantaged communities. Covered investments through Justice40 are categorized under seven categories: 
Climate change

Clean energy and energy efficiency

Clean transportation

Affordable and sustainable housing

Training and workforce development

Development of critical clean water infrastructure

Remediation and reduction of legacy pollution (most notable for our purposes)
Additionally, the Infrastructure Investment and Jobs Act was signed into law by President Biden in November 2021. This bill expanded federal funding and placed an emphasis on federal brownfield and Superfund cleanup at sites across the nation. For brownfields in particular, the bill provides $1.5 billion in grants and loans over the next five years. This is a huge increase over the 2018 BUILD Act's $200 million in annual federal brownfield spending levels.
Brownfields in the Spotlight
Under the category of "remediation and reduction of legacy pollution," Justice40 specifically identifies brownfield redevelopment as an applicable benefit within the 40% of funds promised to disadvantaged communities. So, what might that mean for you or your site?
Ideally, it means that the U.S. Environmental Protection Agency (EPA) will award at least 40% of brownfield grants (increased by the Infrastructure Investment and Jobs Act) and revolving loan funds to disadvantaged communities. So then, the very important question arises: what constitutes a disadvantaged community?
Defining a Disadvantaged Community
When we look at the idea of a disadvantaged community, numerous considerations apply, including: 
Race 

Disabilities

Gender 

Age

Per capita income

Unemployment rates 

Access to healthcare facilities 

Others 



So, how can these factors be quantified to best understand where benefits should be allocated? Luckily, the Center for Disease Control (CDC) has actually developed an incredibly helpful tool that identifies and quantifies the most disadvantaged communities (i.e., socially vulnerable areas) in our nation. This tool is called the Social Vulnerability Index (SVI). 
The SVI scores census tracts and counties throughout the nation based on their social vulnerability. Scores range from 0 to 1, with 1 being the most socially vulnerable and zero being the least. The scores are quantifiable measurements of 15 social factors that make a community socially vulnerable (or disadvantaged). 
While the Social Vulnerability Index was initially created to aid the CDC and ATSDR in determining communities at most need for medical and emergency help, I believe this is an incredibly important tool for the current administration to utilize in determining where Justice40 funds (brownfield funds especially) should be spent.
What the Data on Socially Vulnerable Communities Reveals
When looking at the SVI data in a mapped/GIS format (see below image), it is clear where the greatest concentrations of socially vulnerable, disadvantaged communities are located (depicted in the darker shades of blue).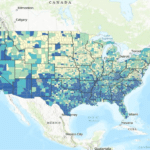 Although states like California, New Mexico, and Arizona undoubtedly have high rates of disadvantaged communities, it cannot be denied that Deep South states—particularly Arkansas, Louisiana, Mississippi, Alabama, and Georgia—have the most concentrated areas of disadvantaged, socially vulnerable communities. 
Mississippi, Alabama, Georgia, Louisiana, and Arkansas are all ranked within the top 10 poorest states in the nation with Mississippi at #1 and Louisiana at #2. Also, Mississippi is one of only three states in the nation that has actually lost population over the last year. 
Despite this concentration of socially vulnerable communities, over the course of the last three years, these five most disadvantaged Deep South states have only won a combined 8.9% of EPA Brownfield grants awarded. This figure sits in stark contrast when compared to states like Pennsylvania and Maine which have each won about 5% of brownfield grants funding alone. 
Funds provided through brownfield grants are essential in not only promoting redevelopment for communities, but also in addressing legacy contamination and environmental issues and stigmas within these disadvantaged communities which have little hope for redress otherwise. 
What Justice40 Might Mean for You
With the above-mentioned data in mind, I was very excited to see that the EPA seems serious about the Justice40 initiative and has committed to getting dollars to "left out" communities. In fact, on February 15, 2022, at the National Association of Counties, EPA Administrator Michael Regan stated that the EPA is committed to, "specifically targeting communities that have not benefited from the EPA's brownfield program in the past." 
Based on poverty and decreasing populations, redevelopment cannot be a reality in disadvantaged communities and impoverished states (like Deep South states) without some support and outside funding. We in the Deep South states are excited to see that the Justice40 initiative prioritizes this essential brownfield funding to help our nation's most disadvantaged communities, spurring real change throughout our nation and here in the Deep South.
If you are interested in learning more about Brownfield opportunities and the additional available funding, please call me or Trey Hess. We will be happy to help!


Annie McIlwain, P.E.                                                                               Trey Hess, P.E.
District Manager, Mississippi                                                       Brownfield Redevelopment
p: 601-956-8233                                                                                     p: (601) 956-8233
annie.mcilwain@ppmco.com                                                          trey.hess@ppmco.com
Is your site/community a candidate for Justice40 brownfield funds? Let PPM Co. Investigate for you!
As more and more funding becomes available at the federal level to help individual communities, states, and regions address environmental change and contamination, it's important to stay up-to-date. You, your industry, or your site may be a candidate for vital federal funding. To learn if your community or your site applies for Justice40 brownfield funds, contact PPM Consultants today at 1-800-945-4834 or contact us here. Don't leave valuable federal funding on the table. We can help you find applicable funding for your site.