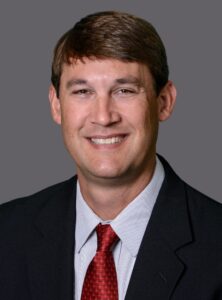 On November 2, 2021, in alignment with President Biden's Executive Order 13990, Protecting Public Health and the Environment and Restoring Science to Tackle the Climate Crisis, the U.S. Environmental Protection Agency (EPA) proposed comprehensive new protections to reduce pollution from the oil and natural gas industry – including, for the first time, reductions from existing sources nationwide. The proposed new Clean Air Act rule would lead to reductions in methane and greenhouse gas emissions across a large portion of the Oil & Gas Industry.  The Agency is also proposing Emissions Guidelines (EG), which would require states to develop plans that limit methane emissions from existing oil and gas sources, and require regulation of hundreds of thousands of existing sources across the US. Additionally, as part of the proposed rulemaking, EPA is also seeking public comment on additional sources of methane to further strengthen emission controls and increase reductions from oil and gas operations.
In 2022, the EPA intends to issue a supplemental proposal that will include proposed regulatory text, which will take into account public input, and to issue a final rule before the end of 2022.
Background
Multiple New Source Performance Standard (NSPS) subparts have been promulgated in the last decade that cover various oil and natural gas equipment and facilities.  In August 2012, NSPS Subpart OOOO established emission standards and compliance schedules for the control of volatile organic compounds (VOC) and sulfur dioxide (SO2) emissions from certain affected facilities that were constructed, modified or reconstructed after August 23, 2011, and on or before September 18, 2015.  Similarly, in June 2016, the EPA finalized NSPS Subpart OOOOa that established emission standards and compliance schedules for the control of VOC and SO2 emissions from certain affected facilities that were constructed, modified or reconstructed after September 18, 2015. Since the original rule promulgation, OOOOa has had several modifications and has been subject to multiple lawsuits and court determinations. More on this later.
Proposed Rulemaking
According to EPA, the proposal would update and strengthen current requirements for new, reconstructed and modified "sources" in the oil and natural gas industry to reduce emissions of methane and smog-forming VOCs. The proposal would broaden the types of sources covered by the rule, and it would encourage the development and deployment of innovative technologies to further reduce pollution from oil and natural gas sources.
A few of the key features of the prosed rule are:
comprehensive monitoring program for new and existing well sites and compressor stations;
compliance option that allows owners and operators the flexibility to use advanced technology that can find major leaks more rapidly and at lower cost than ever before;
zero-emissions standard for new and existing pneumatic controllers (with a limited alternative standard for sites in Alaska), certain types of which account for approximately 30 percent of current methane emissions from the oil and natural gas sector;
standards to eliminate venting of associated gas, and require capture and sale of gas where a sales line is available, at new and existing oil wells;
proposed performance standards and presumptive standards for other new and existing sources, including storage tanks, pneumatic pumps, and compressors; and
requirement that states meaningfully engage with overburdened and underserved communities, among other stakeholders, in developing state plans.
The table below outlines how the newly proposed rule compares to the existing regulations mentioned above (OOOO and OOOOa).  A PDF of the table can be found here.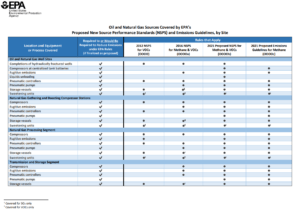 This proposed rulemaking includes three distinct groups of actions under the Clean Air Act (CAA).
First, in historic fashion, the EPA is proposing nationwide EG for States to limit methane pollution from designated facilities in the Crude Oil and Natural Gas source category. The EG being proposed will be in a new subpart, 40 CFR part 60, subpart OOOOc (EG OOOOc). The EG are designed to inform States in the development, submittal, and implementation of State plans that are required to establish standards of performance for GHGs from their designated facilities in the Crude Oil and Natural Gas source category.
Second, the EPA is proposing amendments to OOOOa to address (1) certain inconsistencies between the VOC and methane standards resulting from the disapproval of the 2020 Policy Rule, and (2) certain determinations made in the final rule titled "Oil and Natural Gas Sector: Emission Standards for New, Reconstructed, and Modified Sources Reconsideration," (2020 Technical Rule), specifically with respect to fugitive emissions monitoring at low production well sites and gathering and boosting stations.  The EPA is also proposing to rescind provisions of the 2020 Technical Rule that were not supported by the record for that rule..
Third, in the final rule for this action, the EPA will update both NSPS OOOO and OOOOa provisions in the CFR to reflect the Congressional Review Act (CRA) resolution's disapproval of the final 2020 Policy Rule.
There is a 60-day comment period on the proposed rule, with regulatory text to follow in 2022. As part of this, EPA has requested comments on additional emission sources: associated gas flaring, abandoned wells, pigging, malfunctioning flares, and truck loading.
The Regulatory Impact Analysis for the proposed rule can be accessed here https://www.epa.gov/system/files/documents/2021-11/proposal-ria-oil-and-gas-nsps-eg-climate-review_0.pdf
Where do we go from here?
If history is a guide, my guess is to court.  Regardless of the makeup of the White House, Congress, or the EPA, there will undoubtedly be delays in the rulemaking process and a lot of legal action.
PPM will continue to monitor the rulemaking process and keep you informed of important updates. If you have any questions or needs involving environmental compliance or permitting, give us a call at (251) 266-7921. Feel free to reach out to any of the following PPM personnel.
Contributed by:
Isaac A. Smith
Mobile District Manager
(251) 266-7921
Brandon Bass
Birmingham Office
(205) 836-5650
Karen Brignac
Baton Rouge Office
(225) 2937270
Annie McIlwain
Jackson District Manager
(601) 956-8233